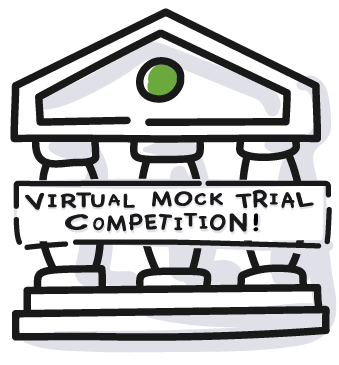 BC Provincial Mock Trial Competition
Justice Education Society (JES) and the Youth Legal Justice (YLJ) have collaborated to provide high school students across British Columbia the opportunity to participate in a virtual Mock Trial Competition on May 28th & 29th, 2022.  
A mock trial is a simulated court case where teams contest a fictional legal matter. A mock trial allows students to gain an in-depth understanding of the Canadian Legal system as teams made up of students are responsible for the roles of either Crown counsel or defense counsel. The goal of the Mock Trial Competition is to provide an enjoyable, dynamic way of introducing students to the law. In addition, it will allow students to learn valuable skills in research and the development and presentation of a persuasive argument.
This year's case is R v Wilson, and it deals with section 87(1) of the Canadian Criminal Code. Section 87(1) of the Criminal Code involves pointing a firearm. The primary issue of the case is what constitutes possession and the legal principles of mens rea and actus reus. A group consisting of a minimum of 6 students to a maximum of 10 will have to apply the necessary legal tests to determine whether or not the accused is guilty. To assist students unfamiliar with legal texts or cases, cases are assigned to be read as precedent to help better understand R v Wilson and section 87(1) of the Criminal Code. 
JES is a non-profit organization that has operated in British Columbia for over 30 years. Our main mandate is to help individuals and communities better understand the workings of the justice system. YLJ is a student-created non-profit organization that works to provide more opportunities for students to pursue legal education.
Previously the Mock Trial Competition has been planned and hosted by JES exclusively. However, the JES and the student lead YLJ team have collaborated to host a virtual Mock Trial Competition this year. Due to COVID-19, the way we interact as a society and the opportunities available to students have been changed drastically. Together JES and YLJ have worked to incorporate technology into a competition previously held solely in person. Using Zoom as a platform for the Mock Trial Competition provides a fresh new learning medium it opens up the competition to British Columbians that would have been unable to participate due to geographical limitations. 
If you have any questions, we would be happy to provide you with more information about this event. Please email the JES team at mock.trials@justiceeducation.ca or call 604-760-5727